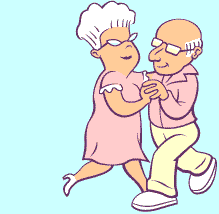 Let's dance the night away!!! Without any "accidents"! We may get giggle at this and or we may balk at it, but "they" are quickly becoming "us".
Accidents? And I don't mean pregnancy.
Accidents As In Loss of Control!
Currently, incontinence leaks its way into the lives of over 19 million Americans. It is predicted that 27 million will be probably suffer with the condition by the year 2010.
There are three main types which rep about 90% of all cases:
Stress
Urge
Mixed.
Other Types Include:
Overflow

Neurogenic

Post-Prostatectomy
OK, so we don't like to think about this being "us"? Perhaps, but reality is, Baby Boomers are going to meet face-to-face with faulty-faucets. It is inevitable. BB's are becoming the growing population, ousting teenagers. Geriatrics are not going away, no matter how many surgeries we have. We were all born to die. In the meantime, how can we live our lives more productively?
Some Interesting Stats on Incontinence
Women take the lead: 85%

50% of the elderly in nursing homes are incontinent(U.S. Agency for Health Care Policy and Research)

1996 reports say that $1.5 billion was spent on adult diapers

25 to 50% with this condition find that incontinence decreases social activity and quality of life, according to the University of Georgia College of Pharmacy

The number one cause of incontinence in men is having had prostate cancer surgery

Over 65 % say they suffered with incontinence six months or longer after surgery (this is radical surgery)

click her for more info

Only 1 in 12 seek medical advice and help

80% of those who seek medical treatment, are cured and or helped

7% of people all over the world suffer with incontinence
What's The Newest "Tool" On The Market?
There are number of options to try and "fix" incontinence: pharmaceuticals, surgery, and biofeedback. All of which, do not provide perfect results. Each has its own problems whether it be terrible side-effects, post surgery issues with failed results, expensive, and finding the right professional that can help as in biofeedback.
So What To Do????
Individually, we have to explore what works best for our situation. While I'm not there yet, I do have this issue with a family member whom I care for. She's elderly and has some health issues, so the option for surgery is out of the picture. It's just not worth it. And in her case, drugs are not the answer. Biofeedback might not be such a bad idea, if she could truly get the concepts and a professional that knows how to work well with the elderly.
Don't Wait!!!!!
My suggestion is to start early in your life. If you are older, still it's never to late to begin. While we may not be able to orchestrate our outcome, due to say a stroke, like my family member had which set off the problem, we can begin to learn to better care for our bodies.
Pilates???? Huh????
YES, Pilates is huge in creating a platform for body control, as you know. But did you know that core training really is about strengthening your muscles. Your pelvic muscles. Which in turn helps prevent incontinence at some level, if not all together.
The key is learning "how" to engage the right muscles. Think of the Kegel exercise. That should help you better understand what we need to be working on daily if we want to prevent problems in the future. However, many people do NOT perform Kegels properly. So my advice is to please seek help in learning to do these properly or it may be counterproductive.
I've listed two sites above that you may want to check out on kegel exercises. It will be worth your time.
But the best plan is to seek a qualified person to help and or answer any questions about the exercise. That would include doctors, biofeedback practitioners, and, yes, most definitely a professionally trained Pilates trainer. And again, professional as in more than a few week ends of training. Remember most Pilates professionals are NOT found in your local rec center.
Once you learn, yes, it will be work, and for the REST of your life. But it will be soooo worth it!!!! I promise!
If You Or Your Loved One Needs Practical Help Right Now?
While protective underwear are not the most exciting option and are not the most "green" option, they do provide a means for a better lifestyle.
Did You Know?
Depend now comes in two "shapes". Why? To offer "support" for not just women, but men. Forever, women have had better options in protective-wear due to the high percentages of incontinence. But now the 21st century is here, and with it we are seeing increased awareness for men as well.
Yes, men used regular Depend prior to this new edition. However, I'm certain they are thankful that someone at Kimberly-Clark could be depended on to take care of their individual needs. KC announced plans to roll out the product line late last year.
Seeing the need for not just the elderly of today, K-C is looking ahead. And they are appealing to the Baby Boomer market. Why not?
And the gender based adult "protectwear" are color-coded! You guessed it: Pink for the ladies, and Blue for the men! I love it!!!
Already, I'm hearing great reports from men! They love the new and improved Depend made just for them! Not that they are going to chit-chat with you about it. They'll let the women folks take care of that.
But do look for the upcoming commercials. You will either hate them or love them. As for me and my house, we are going to embrace them. I'm just so thankful that there is something new and improved to help those who suffer with this condition. Perhaps the percentages of people suffering socially might begin to decrease. I hope so.

Copyright © 2008 by Pilates Worx 4 Life. All rights reserved. Check out website: www.pilatesworx4life.com